2019.12.26
Telecom Center Building
ICC2019 International Map Exhibition
【Date held】
 July 16th, 2019 (Tue) – July 19th, 2019(Fri)
【Venues】
 Atrium of the Telecom Center Building
Event / Program Overview
The International Cartography Conference (ICC) is the largest international conference in the field of cartography, attracting nearly 1,000 participants from more than 75 countries around the world.
This was the first time in 39 years to be held in Japan, with the National Museum of Emerging Science and Innovation as the main venue.
The ICC also held the International Map Exhibition and Barbara Petchenik Children's Map Competition*, one of the main events of the conference, at atrium of the Telecom Center Building on the first floor.
*A map competition to commemorate Ms. Barbara Petchenik, former vice president of the ICA (International Cartographic Association) who dedicated her life to children's maps. The theme this time is "We love maps". Outstanding works may be used on the cover of UNICEF billing cards and other magazines of the ICA International Cartographic Association.
Main event venue and entertaiment
<Atrium>
The International Map Exhibition and the Barbara Petchenik Children's Map Exhibition were held in an atrium, usually used as a lobby, with about 150 display panels.
At the International Map Exhibition, we displayed large-sized floor maps such as Ino Tadayoshi's "Ino Map," surveyed throughout Japan in the 19th century, as well as maps drawn using advanced technologies related to cartography around the world. Opinion exchange was facilitated through guided tours and forums by experts.
At the Barbara Petchenik Children's Map Competition, we exhibited award-winning works in four categories: under 6 years, 6 to 8 years, 9 to 12 years and 13 to 15 years.

During the exhibition, about 1,300 people from Japan and about 700 people from overseas (total of 2,000 people) visited and enjoyed international exchange through maps. In addition, not only attendees of the conference but also children and general tourists who visited the Odaiba area joined the exhibition.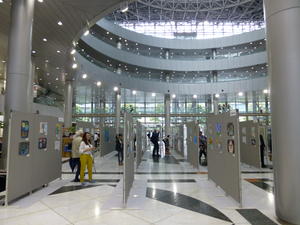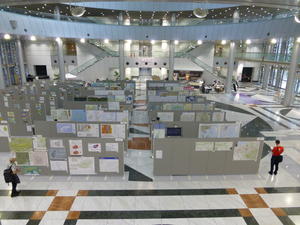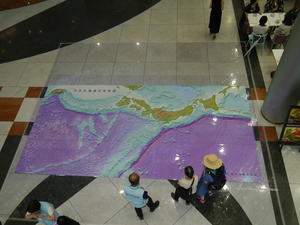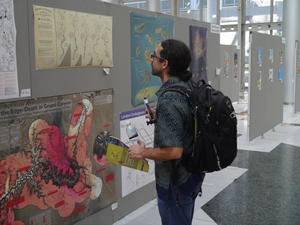 ■Number of participants
Approximately 2,000 people (total number of people for 4 days)