2021.03.31
Jiyugakuen Myonichikan Fashion Show "Impression"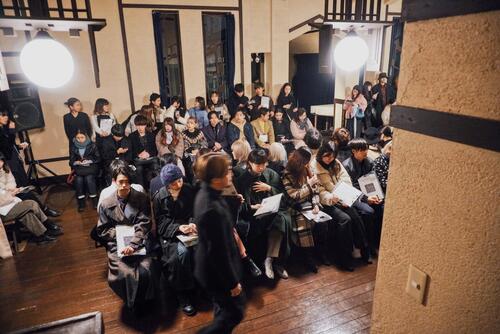 Keio Fashion Creator, a student organization, held a fashion show at Jiyugakuen Myonichikan (House of Tomorrow at Jiyu Gakuen School), which is designated as an important cultural property by the Government of Japan, with a subsidy from the TCVB. The majestic atmosphere of the 100-year-old cultural property was fused with modern fashion to create a show with a distinctly different atmosphere from conventional event venues. Kie Ueda, representing Keio Fashion Creator at the time says, "The atmosphere of the venue was very good and we were able to make the most of it."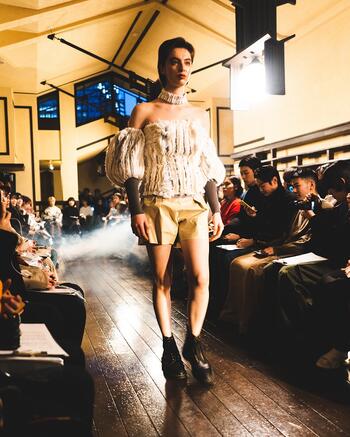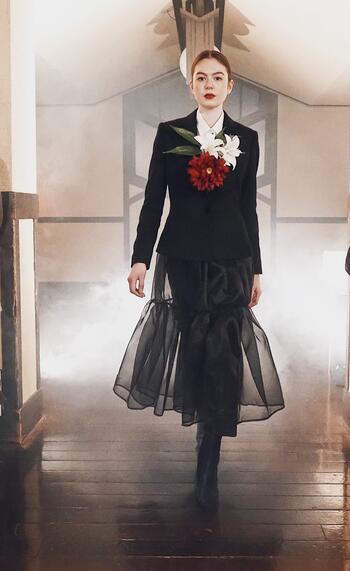 Keio Fashion Creator is a fashion & clothing student organization with about 100 participants attending universities and vocational schools around the metropolitan area. Based on a philosophy of "Redefining the value of the fashion show without getting caught up with rules and/or stereotypes", the organization hosts a fashion show once a year, and this time for a change of pace, the show was held at one of the unique venues.
Taking advantage of the fact that there was not one singular place to gather all participants, more than twenty fashion models showcased the designs by walking through runways that were set at the first-floor lounge and the second-floor dining hall. The wooden building's distinctive features, such as the lounge's large wooden-framed windows with geometrically arranged crosspieces, and the fireplace in the dining hall reminiscent of the time when the building was first built, added an idiosyncratic air to the modern, cutting-edge show.
[Event / program overview]
Date: December 22, 2019, 1:30 p.m. - 6:00 p.m.
Number of participants: Approx. 600
Host: Keio Fashion Creator