2022.03.24
Keio Fashion Creator RUNWAY SHOW 2021 "MONTAGE"  at the Mitsukoshi Theater in Nihombashi Mitsukoshi Main Store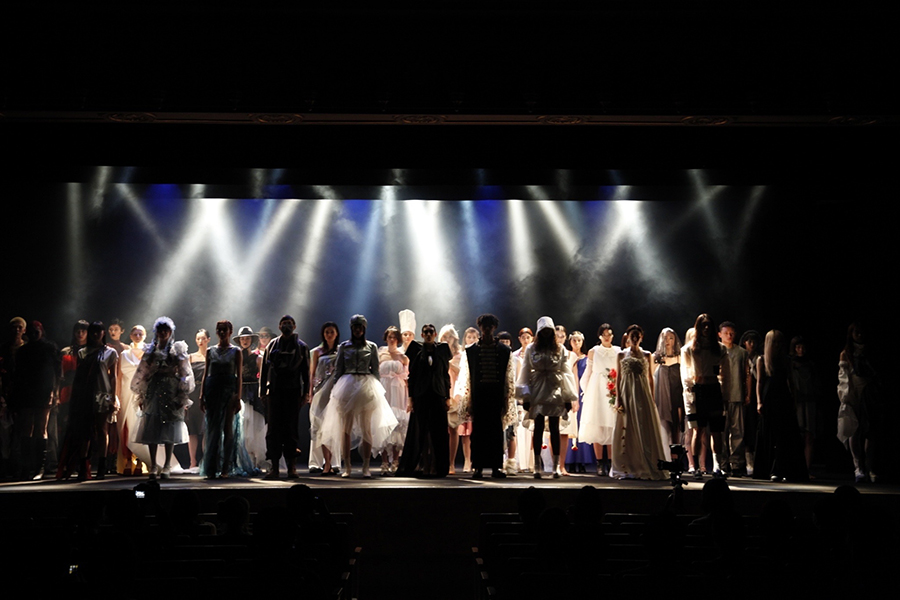 A fashion show, the RUNWAY SHOW 2021 "MONTAGE", hosted by Keio Fashion Creator, was staged at the Mitsukoshi Theater, a unique auditorium located in a historic department store, open since 1927, with more than nine decades of history.
 Themed under the title "MONTAGE", a technique of motion picture filming, each designer chose a movie that inspired them and incorporated this inspiration into their clothing design. The show took advantage of the distinctive charm of the historic venue, built from marble with plaster sculptures and other magnificent wall decorations that have been intact since the venue opened, making for a unique atmosphere. This atmosphere complimented the clothing designs, expressing each creator's thoughts since each designer chose a different film and utilized different colors, textures, and materials in their outfits.
 The host said, "the stained glass on the walls and ceilings still retain the atmosphere of the past, and, the vibrant colors of the venue created a warm and relaxed atmosphere, allowing the audience to be captivated by the content".
 Although the event was held entirely online as a COVID-19 countermeasure, the event took all possible safety measures, including frequent disinfection, ventilation, and sufficient space between waiting lines for runway models.
 Please feel free to contact us when considering an event at the "Mitsukoshi Theater" because, at Tokyo Unique Venues, we are ready to serve you with our breadth of expertise, from various application procedures to advice during setup.

[Event Overview]
Date: December 19, 2021
Number of participants: 150 via online streaming