2022.03.24
Tokyo Unique Venue Showcase Event 2022 at the Tokyo International Cruise Terminal and SMALL WORLDS TOKYO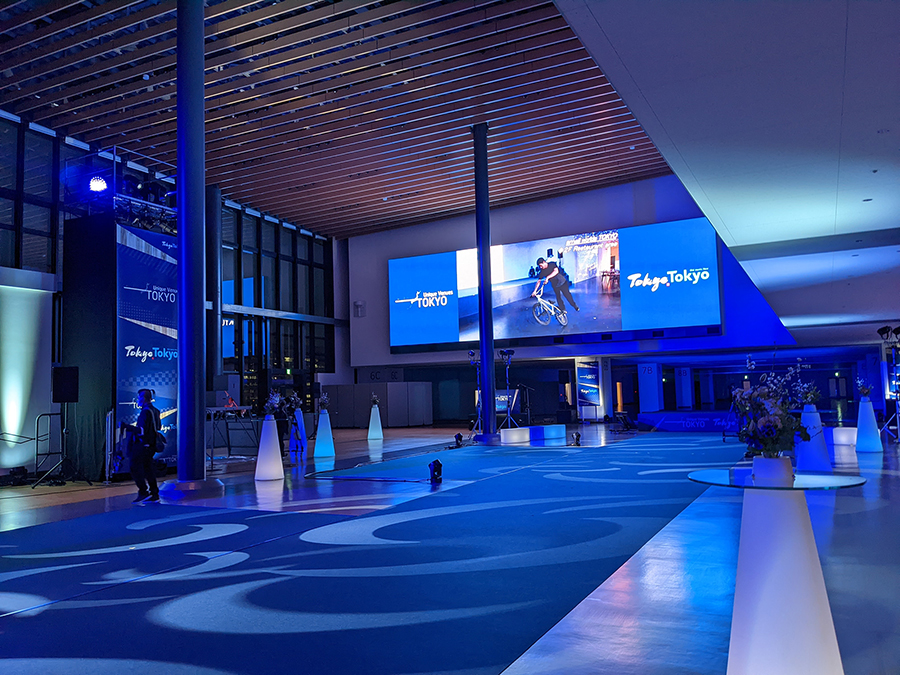 The Tokyo Convention & Visitors Bureau hosted the "Tokyo Unique Venue Showcase Event 2022", which was held using two venues in the Tokyo Bay Area - the Tokyo International Cruise Terminal and SMALL WORLDS TOKYO.
 The Showcase Event promoted Tokyo Unique Venues by introducing the various ways they can be used. Although the event was held entirely online this year as a COVID-19 countermeasure, the event successfully showcased Tokyo as a sustainable future city by utilizing sophisticated digital technology and leveraging the unique locale surrounded by the sea, sky, and greenery. Interactive exchanges took place briskly by connecting multiple venues via live broadcast, which was symbolic of MICE in the future, where conferences and events will become smaller in scale and more decentralized.
 Each facility was staged uniquely and introduced as a case study. For instance, the Tokyo International Cruise Terminal showed how its high ceilings could be used for dynamic displays and performances at incentive events, showcased smart trash bins, and introduced other initiatives to minimize the carbon footprint of an event. At SMALL WORLDS TOKYO, participants were impressed by the use of the miniatures area where miniature models and towns were displayed. There were explanations of how the venue could be utilized for MICE events, including examples of past events. In addition, live feeds from the Ariake Arena and Ariake Gymnastics Centre, legacy facilities of the Tokyo 2020 Games, were shown to introduce the future utilization possibilities of these facilities.
 Moreover, a variety of foods and beverages produced in Tokyo were introduced, including traditional Edo-Tokyo vegetables, dishes made with ingredients grown locally with a focus on "local production for local consumption," and Sake made by a brewery in Tokyo as well as other beverages. Methods of serving food and drinks applying strict hygiene measures while still caring for SDGs were displayed, including individually wrapped food items using plant-based packaging materials and lids.
 The event garnered many participants from tourism-related businesses, delegates from embassies, and other organizations and received comments such as "it felt like being there in person, not like an event held online."
 Please feel free to contact us when considering an event at the venues introduced this time - the Tokyo International Cruise Terminal and SMALL WORLDS TOKYO - or any available venues. At Tokyo Unique Venues, we are ready to serve you with our breadth of expertise, from various application procedures to advice during setup.

[Event Overview]
Date: February 8, 2022
Number of participants: 260 via online live streaming
Note: Recordings of this event can be viewed on YouTube.